Advantages of website builders for web developers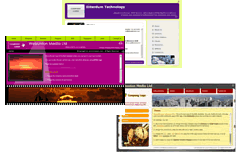 First impressions count. This is as true in the personal context as it is in the professional. Often the first impression a potential prospect has of your company is the one they receive by viewing your website. You have a very limited window of opportunity to grab that new user's attention and many will click out of your site if you fail to do so.

What do you want that vital first impression to be? Do you want it to be mundane and run of the mill or do you want to stand out from the crowd? Flash websites when they are done well allow that first impression to be slick, professional website builderand attention grabbing. Keep those new users on your page, not your competitor's. Flash lets you grab your user's attention with eye catching intros and attractive web site features. Wow your customers and prospects with lightweight and well thought out design elements that respond to the user's actions. As well as allowing more sophisticated design features, Flash lets you interact with your user. You can embed Flash content within your website and show movies to users. Imagine the possibilities when you can deliver snappy graphical interactive presentations directly to your user's browser. Command your user's attention with inviting features that enrich their experience.



---
More Website Building Software

Software for website building, create flash photo gallery, music player, videos, calendar, interactive maps, and more...

---
Flash is everywhere. It is the common standard for delivering animation on the web and the vast majority of web users are able to use Flash content. It downloads quickly and can deliver amazing amounts and variety of content in a very short space of time.
Flash is not a panacea for all your web design problems. Flash is a tool and like any other tool, it can be abused and overused. Flash is best used to support your content, not to upstage it or replace it. If the only thing that a user remembers from your site is that it looked pretty, then your content is failing. If the user comes away from your site thinking that it delivered great content in a stand out manner, then you have succeeded.
Flash is a tool, and when that tool is well used you can lift your site above those of your competitors.
Flash development does not have to cost the earth. There are a number of turnkey Flash development packages that you can use that will allow you create Flash websites without programming experience. You don't need to break the bank in order to spice up your online presence.